CENTERDEVICE  document management
The smart solution for your business
---
Your project in the cloud
Rock your projects using secure document storage in our German business cloud. Experience smooth and swift cooperation with regard to common subjects, particular teams or temporary work with external stakeholders.
The flexible and secure access via web browser, desktop client and mobile apps frees you from time and location restrictions. Our formula for success: secure storage, fast search, structured sharing – let your projects thrive!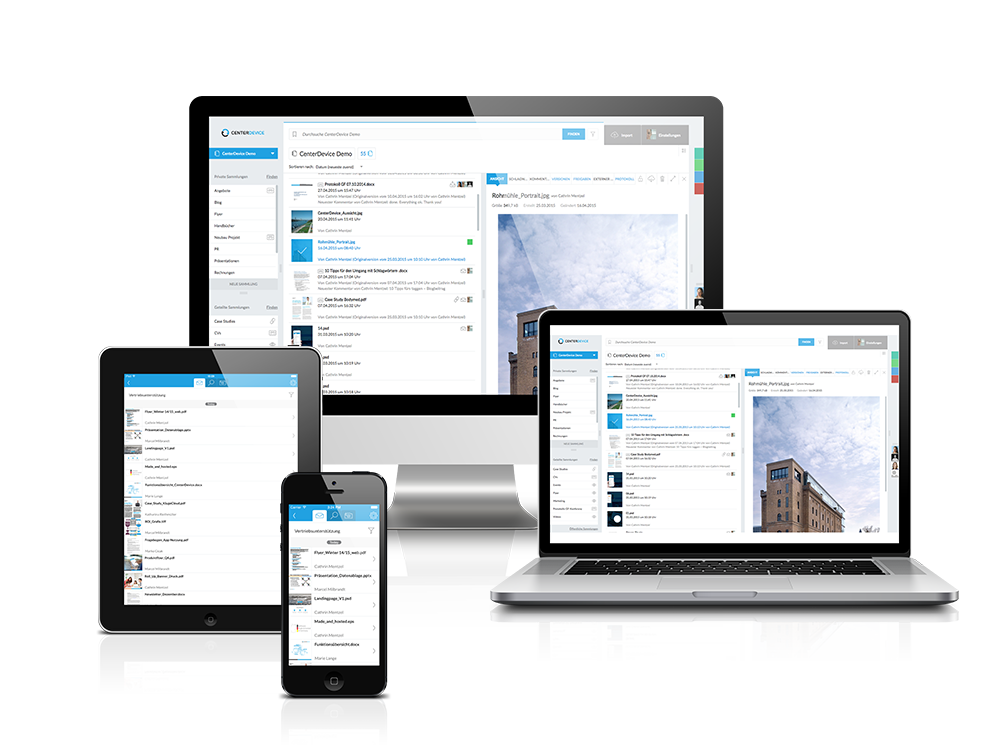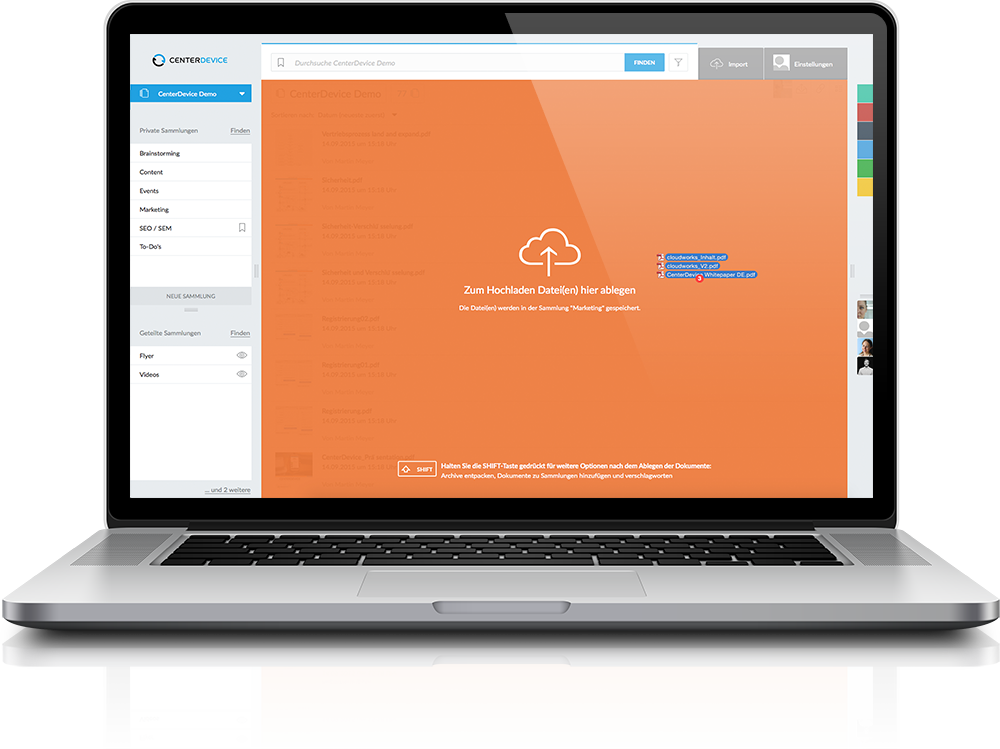 Drag, drop and share your files
Drag & drop your files to a secure storage and move large files with just a few clicks. Center Device provides effortless project and knowledge management. Your team will automatically be notified about shared content, new document versions or comments. Project related work can be done in a smart as well as efficient fashion.
All documents in one place
CenterDevice will store your documents in a central place for controlled, yet location independent access. A large set of functionality facilitates seamless collaboration. Find and share information and work with people in your company as well as with external teams, clients or branch offices.
You can share particular documents or collections with related content and work in groups or individually. Organize documents with just a few clicks – up to 5 GB file size. CenterDevice can be accessed via web browser, desktop client or mobile apps (Android, iOS). Document management can be that easy!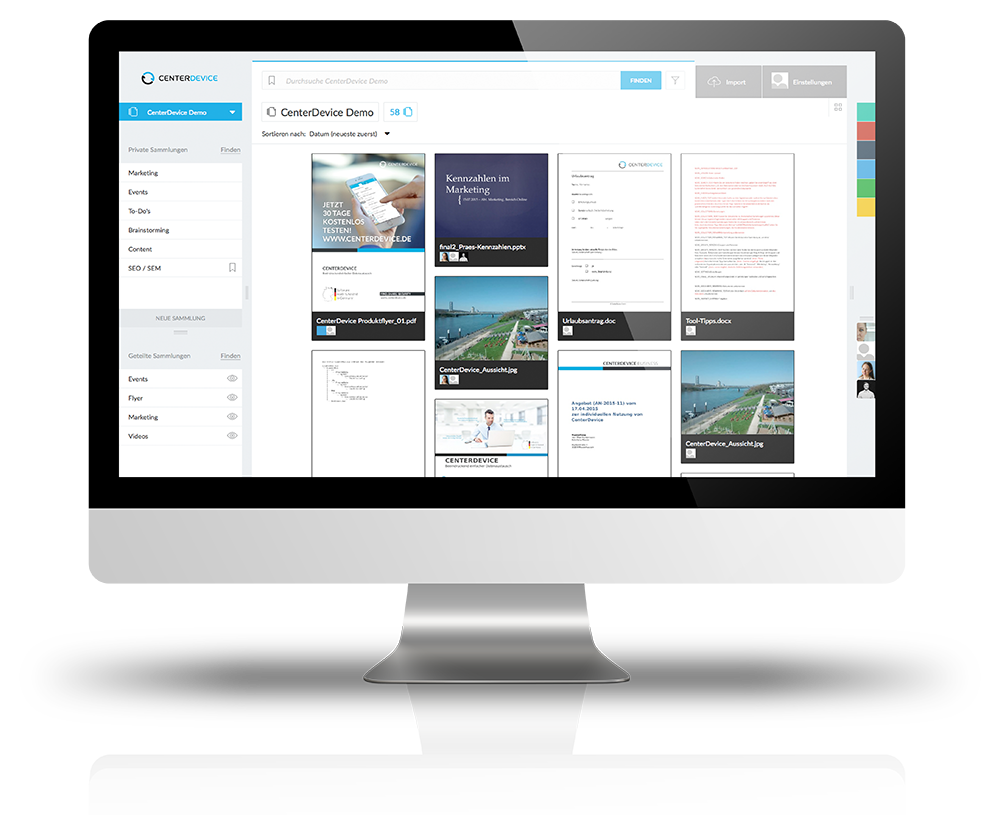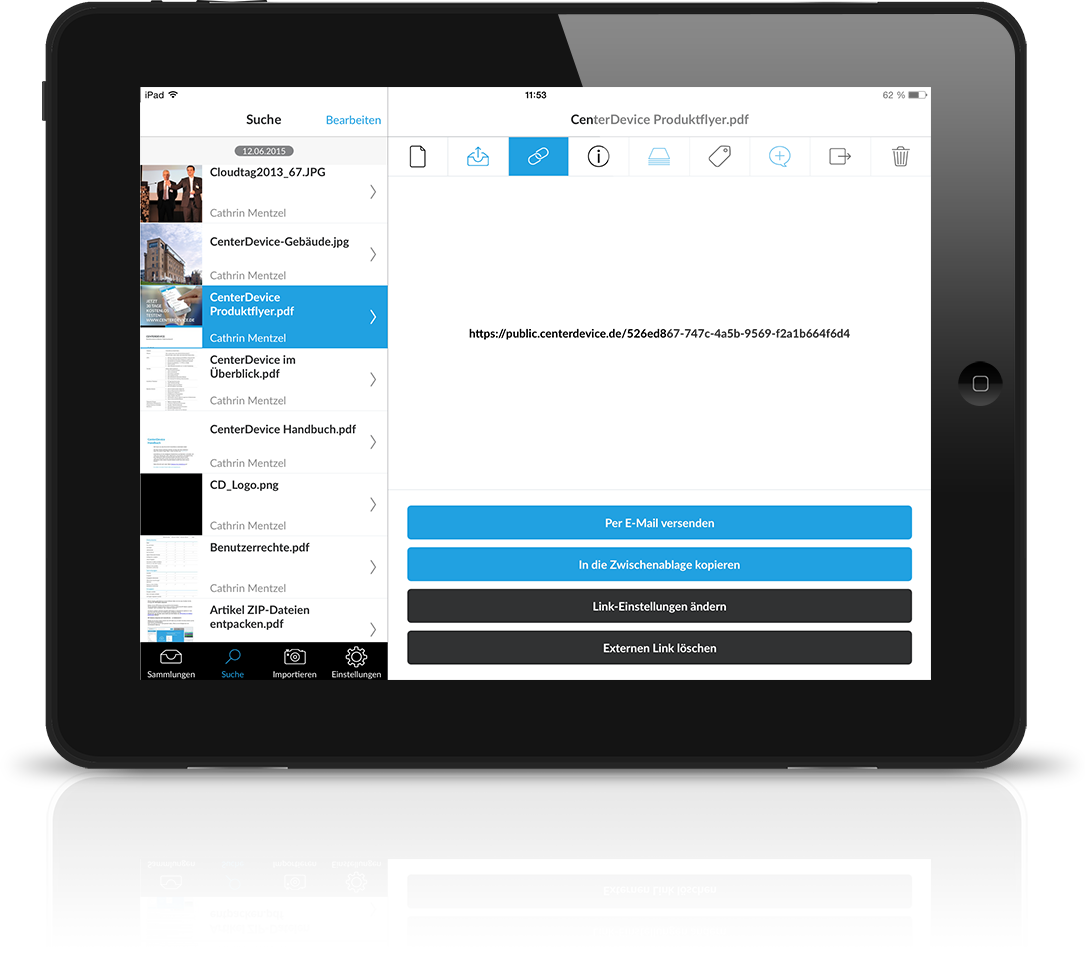 Share links
If you want to share large documents or collections swiftly and easily with a person outside your company, just send them a link. Link access can be controlled by password security, download limitations and expiry date. Hence, the flow of information is always under your control.

Search all files
Type in a keyword and search your entire document inventory to find what you are looking for. You can filter for tags, file types or time periods. Your results will pop up at lightning speed thanks to full text indication (OCR) and Elasticsearch technology. CenterDevice's amazing search power will save you and your staff many hours of work.
Tag your documents
Tags can organize your documents, provide a structure and serve as filter criteria. Using tags and intelligent search queries you can group documents in collections from the outset, on upload time. You can assign as many tags as you want – for all of your individual and efficient workflows!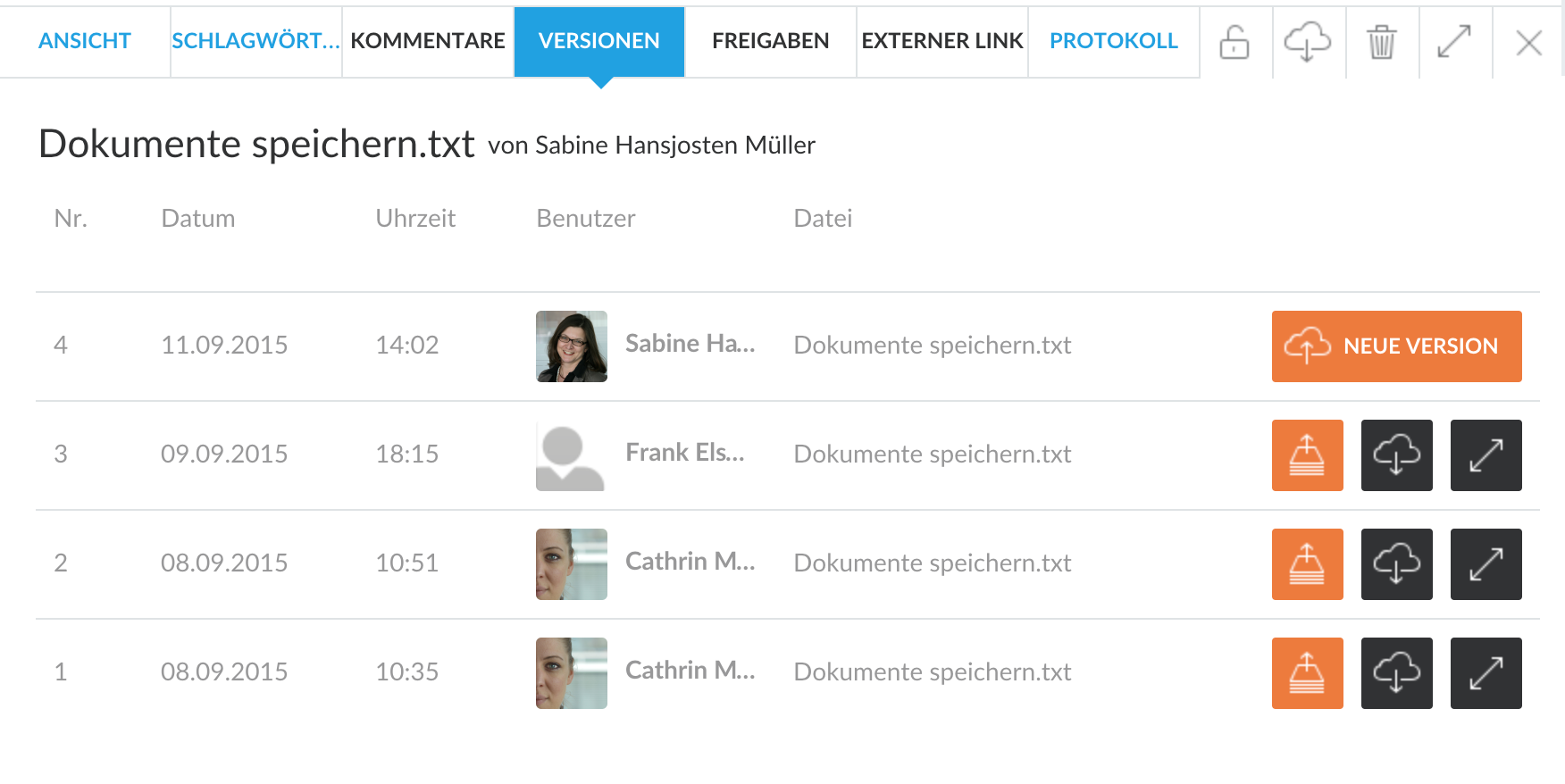 Create new versions
With each document edit a new version is created. Versions are displayed in a version history including version number, modification date and time, and editor. Each version can be viewed, downloaded and turned into the current version. The unique file history provides a safe environment for perfect cooperation.
Leave a comment
Within CenterDevice you can communicate through comments and leave a note on the document content or state. Create hints or instructions for your co-workers and save these comments with the document itself, thus providing for faster workflows and more transparency. You can enable CenterDevice to send you an email notification each time a comment is added to a document.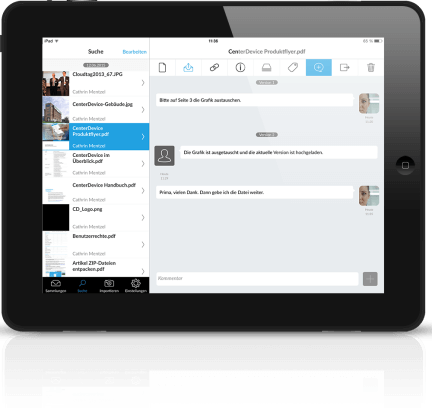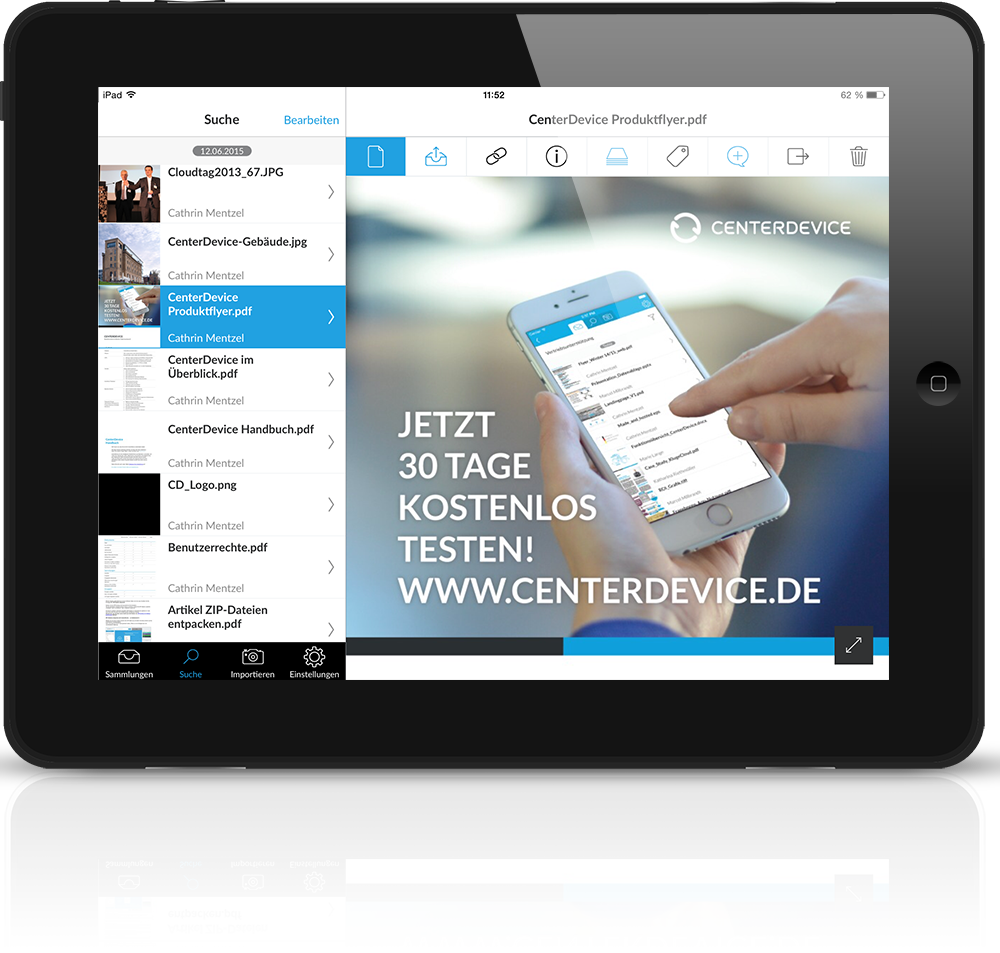 Anytime anywhere
Sometimes you need access to a document or project, and you need it NOW. Or do you have to share large amounts of data or deliver a spontaneous presentation? As soon as you're online, your company kowledge is right at your fingertips, no matter where you are. Log in at your web browser or mobile app (Android, iOS) and be always perfectly informed – in each and every situation!
Collection basics
A file can be assigned to various collections and shared with various groups or individuals in CenterDevice. Hence it can be found in multiple "virtual drawers" but these are only different views of the same file instance. This way your teams keep working on a unique, consistent file.
Private collections
Group your documents in collections according to their content. This content-related organization provides structure to large projects and concentrates information. Your collections are only visible to you until you choose to share them.
Shared collections
Public collections are collections that are shared with individuals, groups or through a link. Shared collections can be found, searched and subscribed by internal users. One document can be present in multiple collections, but it always remains one document. No more duplicates – that's good news for teams.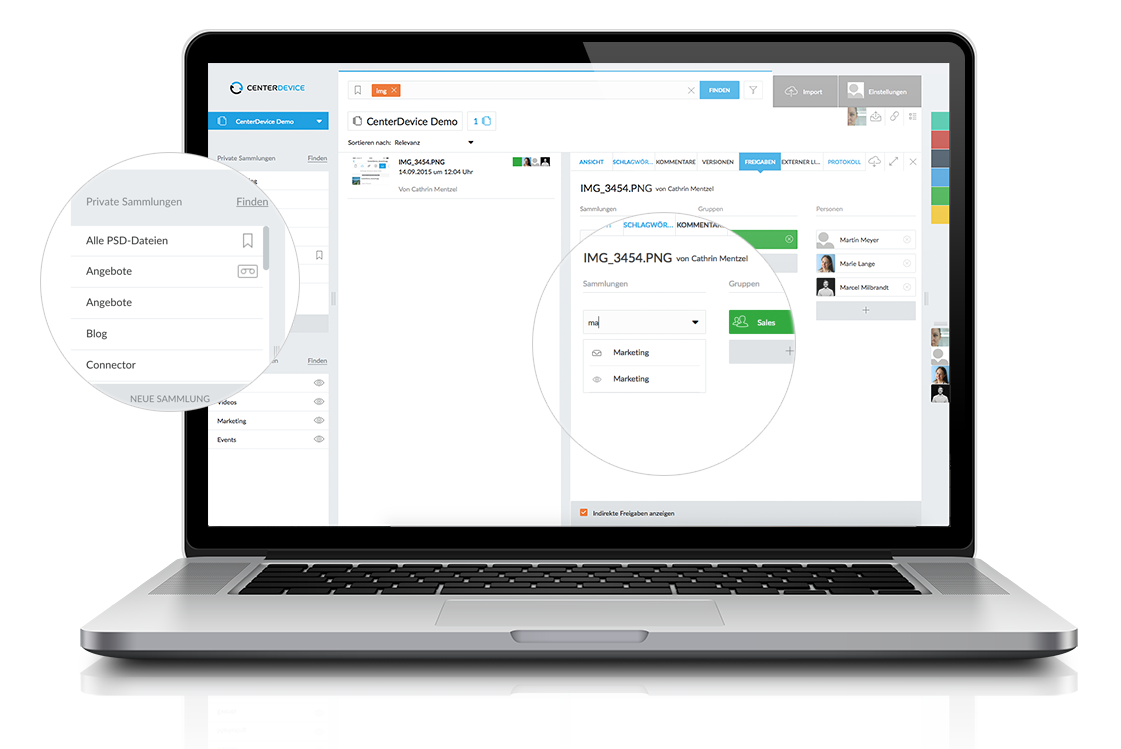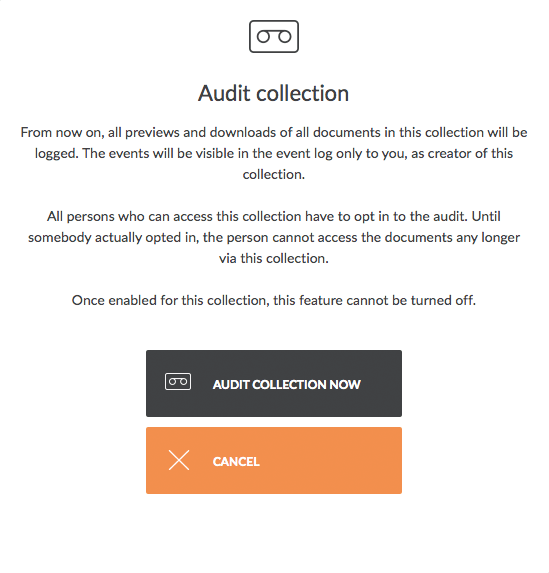 Comprehensive information at first glance
A log function lists each document related action, such as downloads, uploads, shares, versions, comments, and tags, along with the initiator's name and a time stamp. This log is visible for both internal and external users and it can be created at summary, collection and document level.
Audit Log for enhanced security
The Audit Log is an extended protocol that records events within a collection, including views and downloads. It can only be used if expressly agreed to by users. The collection owner is the only person who can view the Audit Log. This is an ideal tool for M&A processes, building projects and tender procedures, where information flow and notice taking must be recorded.
RESTful API/OAuth ensures integration options
Log information can also be accessed via RESTful API. CenterDevice includes a RESTful API/OAuth that enables integration of CenterDevice features into a corporate software system, while ensuring secure authentication at the same time.
About us
CenterDevice GmbH, founded may 2011 and launched 2012, is a joint venture of codecentric AG (Solingen) and HW Partners AG (Bonn) with 18 employees working at Solingen and Bonn. CenterDevice is offering companies a high security cloud software for intuitively finding, sharing, storing and cooperating on documents. Flexible access via web browser and mobile Apps (iOS, Android) is included. Organizations, corporations and companies trust in our technology expertise. Secure, encrypted data storage in a certified data canter in Aachen (Germany) and smart collaboration features make CenterDevice a perfect solution provider for businesses.
OCR indexing (full text recognition) and automatic detection of meta data structures at upload time ensure fast delivery of search results within seconds. Comments and automatic versioning foster transparency when working in teams. CenterDevice is perfect for cooperation and secure, flexible sharing of large files. It is an ideal replacement for VPNs, wikis and z drives. Start now – there is no extra knowledge required. You will understand CenterDevice intuitively, just as thousands of users in organizations of all sizes who are excited about CenterDevice.
With growing market acceptance we are rising to the challenge of the tasks we are to perform. Our enthusiastic development team is looking forward to live up to your expectations.
Have a question?
We're always here to help. Please send an e-mail to info@centerdevice.com
We love to hear from you!